IN THIS ISSUE
Children's services at Loma Linda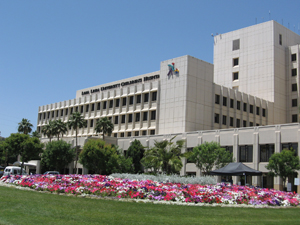 The early records show a Dr. Dorothy Harbaugh as the first pediatrician at Loma Linda, teaching the first medical class in 1909. By 1919, pediatrics became an official section under the department of medicine, and remained that way until 1952, under four successive chairs—Albert Hill, E. E. Moody, Milo Brooks, and finally Robert Chinnock. Though only 32 when named chair, just eight years after graduating from LLU (then known as the College of Medical Evangelists), Dr. Chinnock was the first formally trained pediatrician at Loma Linda. He led pediatrics to become its own independent department in 1963. When I went through medical school here in the late 1960s, I fondly remember Dr. Chinnock, along with Drs. Hertha Ehlers, Naomi Pitman, and Jeanne Andrews, as our pediatric department. That was it. When we moved into the new hospital in 1967, there were only 10 beds for kids, with a small intensive care area.
But Dr. Chinnock could see the potential for growth, and began recruiting the various subspecialists necessary for a modern department. After Dr. Chinnock's untimely death in 1975, John Mace was named chair and continued this development. Over the subsequent 15 years, as it was increasingly recognized that children are not just little people, but have unique needs of their own, pediatric specialists were added in cardiology, neurology, endocrinology, pulmonology, nephrology, neonatology, hematology/oncology, infectious disease, gastroenterology, and critical care. By 1990, peds had truly come of age at Loma Linda, with nearly 150 faculty, including 60 full-time pediatricians. Both inpatient and outpatient services had grown immensely, pushing our capacity to its limit. It had truly become the destination of choice for any critical need among the 1.2 million children in the Inland Empire.
The genesis of new ideas is often difficult to later recall, but with Lyn Behrens, a pediatric pulmonologist, as dean of the School of Medicine and John Mace as chair of the department, it is not hard to imagine the conversations that began to circulate around our halls. Are we ready? How much will it cost? Where will we put it? Is there truly enough business? How big should it be? With a huge step of faith and commitment, the Loma Linda University Children's Hospital was officially organized in 1992 with plans for a new facility to be attached to the south side of the Medical Center. The new building was completed in 1995, with 270 beds and one of the largest intensive care nurseries in the country with 84 beds.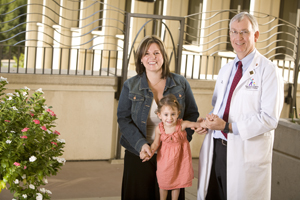 Those early questions were quickly answered, as Loma Linda University Children's Hospital became the second busiest children's hospital in California, with an average daily census of more than 250. The NICU is often crowded, with tiny bundles of life depending on the latest technology delivered by an incredibly dedicated and skilled staff from many disciplines. You can't walk through that NICU without seeing the hopes and dreams of many parents dependent on the caring hands and hearts of the staff. Leadership of the department transferred to Richard Chinnock, the son of Robert, in 2003, when John Mace retired. Zareh Sarrafian has served for some years as administrator of Children's Hospital.
Just as children's services have grown at Loma Linda, many community hospitals and local pediatricians stepped out of specialized pediatric care, recognizing the incredible skill and resources necessary to do it right. This has pushed the demand for our Children's Hospital even higher. A unit in the main hospital was recently converted to adolescent care, and the NICU is often straining with more than 80 premature or critically ill babies needing care. Outpatient clinics have also expanded, with the department providing assistance to many community programs. Every conceivable disease is cared for, with more than 50,000 different children seen each year, often multiple times. Such programs as the Children's Assessment Center are supported by Loma Linda, which cares for all the child abuse cases in the Inland Empire.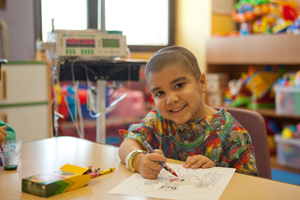 But now, less than 20 years since Children's Hospital opened, the questions are surfacing again. Can we keep up with the demand? Should we do more? So many depend on us for quality pediatric care, but we need a larger facility. Where will the funds come from? Do we need more beds or just more efficient use of the space? We do need an expanded NICU. We now have 120 full-time pediatricians on staff, with another 60 joining us part-time, providing skills in all specialties. There are around 250 total medical staff supporting the Children's Hospital. This is now our largest department in the School of Medicine. We serve a quarter of the geography of the state of California. In the current facility, 85 percent of our beds are in shared rooms, limiting our ability to care for the whole family and provide the best infection control. Current plans include increasing our percentage of private rooms substantially to address concerns surrounding infection control and privacy.
Loma Linda has also become a major training institution for pediatrics, with 66 pediatric residents in specialty training and another 16 combined internal medicine/pediatric residents. We have subspecialty fellowships in critical care, neonatology, emergency medicine, general surgery, and neurology. So we have become a destination of choice, not just for patients, but also for physicians, nurses, and others seeking the best training in pediatrics. This focus is strengthened by one of our largest research efforts on campus, with 12 full-time research staff supporting our pediatricians in a variety of clinical trials and basic science research.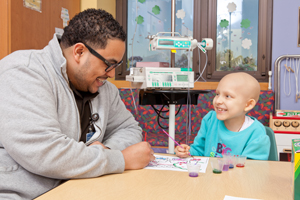 We have known for some time that we need to build a new adult facility by 2020, due to California seismic requirements. Our Children's Hospital was built more recently and meets all those requirements, but we need to convert our semi-private rooms to private rooms for more efficiency and better services. This is the new reality that has called us to consider expanding Children's Hospital. We can incorporate what we already have in the current Children's Hospital, but we need to prepare for continued growth in the Inland Empire, which continues to expand faster than any metropolitan area in California.
So planning has begun. We envision a truly hybrid facility—incorporating the existing Children's Hospital and its valuable space and resources, while also sharing some infrastructure with the planned adult hospital. Current thinking connects the new facility with the east side of the current Children's Hospital, where the parking lot is now. We will need a new pediatric patient tower, expanded surgical and procedural capacity, and the kind of compassionate environment Loma Linda is known for. Richard Chinnock and his department are talking about a whole new concept—whole child care—that can integrate the hospital and our pediatricians with every home and community where these kids live. We feel we can do more to prevent disease, contributing to child development even in dysfunctional families. Loma Linda needs to truly provide this type of comprehensive care that will support parents and their children in becoming the best they can be. Please keep this project in your prayers as plans mature and move forward.
Regards,
Richard Hart, MD, DrPH
President
Loma Linda University Health



Office of the President, Loma Linda University, Loma Linda, CA 92350
Copyright © 2013 by Loma Linda University