February 2019
Revisiting your history
Homecoming 2019 offers education, spiritual renewal and fellowship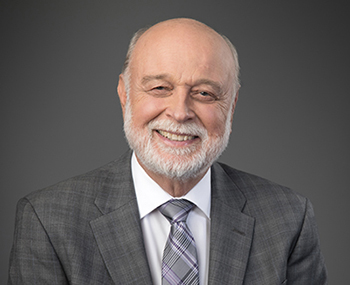 Alex Haley's Roots: The Saga of an American Family, and the television miniseries that followed in 1977, electrified the United States with its incredible story of a man tracing his roots seven generations back to Kunta Kinte, a young man seized in The Gambia in western Africa and brought to America as a slave. The story, part history and part novel, highlights the beauty in the quest of finding your roots that signal who you are and where you came from.
Fascination with our own roots has become easier today with the option of tracking the wandering of our DNA through history. You hear many stories of both gratification and surprise when we discover more about ourselves. The family roots on my father's side came from an undocumented immigrant about five generations back when a British sailor jumped ship in Nova Scotia, Canada, and started his new life on this continent.
Stories such as these become part of a bigger, shared history when we study and develop our professional skills and identities through education. For many of us alumni, Loma Linda University is the place where we gained the confidence to truly become ourselves and to dream our plans for the future. This identity is often wrapped up in the people, professors and staff who treated us with respect — they applauded our success and occasionally held our hands through some rough spots. It also rests in buildings and places that bring back memories of the past that established a place in our minds.
Homecomings are special because they reconnect us to our roots here — teachers and friends who walked that moment in history with us.
This year's Homecoming weekend begins on Thursday, Feb. 28, with a full day of continuing education courses, including an interdisciplinary day, offered free to all, on topics of concern such as opioid addictions, suicide risk, and ways to identify and counter these dreadful epidemics. Friday will continue with more CE courses focused on discipline-specific topics.
The weekend program, which we are calling Mission Possible, begins Friday night at 7 p.m. in the Loma Linda University Church with incredible stories and videos of our alumni and the impact they have had around the world. Saturday morning will shift to the Drayson Center for our traditional Parade of Flags, followed by more stories and class recognitions. The church service will include the full University Church Orchestra and Choir, followed by Randy Roberts' message, and end with one of my favorites, our faculty and students signing the Lord's Prayer while sung by Jeje Noval.
The big tent will again host what might be the world's largest haystack feed, followed by various groups meeting during the afternoon. I would encourage you to gather again in the University Church at 4:30 p.m. for our Mission Vespers, which will feature people and stories from Angola, Malawi and Haiti.
Saturday night activities are back at the Drayson Center, presenting Loma Linda's Got Talent, with both classic and cultural music and stories. A highlight this year will be a special performance by Lyndon Taylor, an accomplished violinist with the Los Angeles Philharmonic. Sunday morning brings a pickleball tournament at the Drayson Center, a pancake feed and more CE courses.
Homecoming weekend has become a major event on this campus, when alumni from all our schools can meet, swap stories and hear updates on the campus. I encourage you to join us for this annual gathering, where you can revisit your roots, relive your stories from the past and rekindle longtime friendships. See you soon!
Sincerely,

Richard H. Hart, MD, DrPH
President
Loma Linda University Health