January 2019
Special Edition
Remembering James M. Slater, 1929 – 2018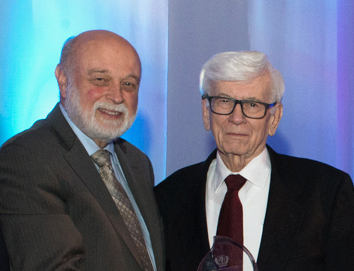 In retrospect, it is often difficult to tell when a spark ignites a person's passion and commitment into a dream. In Dr. James Slater's case, it was an evolutionary process, probably beginning with his mother's commitment to education and the biographies read by his third grade teacher. From that beginning in Utah, his passion for science, machines, and teaching others took root.
When James Slater died the day after this past Christmas, at age 89, he left an indelible mark on Loma Linda and its place in history. But his journey was a somewhat convoluted one. Growing up in Utah, he found jobs in the usual places young men worked back then— mining and driving heavy equipment— while putting himself through a degree in physics at the University of Utah. After he moved his growing family to Fontana, California, to take a teaching job, someone suggested he become a doctor. He applied to Loma Linda and graduated in 1963. The emerging discipline of radiation medicine was a natural for him with his background in physics and his inquisitive mind. It was during a fellowship at MD Anderson Hospital in Texas that the challenges of radiation therapy really hit him.
Jim noted how the impreciseness of radiation mapping and the collateral damage caused to surrounding tissues was devastating to many patients. Then and there, Jim decided there must be a better way. He returned to Loma Linda in 1970 with a growing passion in his heart for finding better radiation options. It would take him 20 years of talking, researching, searching for partners, and finding both political and financial support before proton therapy would become a reality. Others needed to take the gamble with him. Dr. David Hinshaw, with his far-reaching vision and risk taking tendency, believed in Jim and gave the approval to move ahead. I will never forget watching the two of them reconnect a few years ago on campus, two seasoned warriors recalling the challenges encountered and now sharing the sweet taste of victory.
As is usually the case when developing new technology, the original budget was far exceeded. Generous support from the federal government helped. I was privileged to participate in some of Jim's "Hill" visits in Washington, making the rounds of various offices. Jerry Lewis, our local congressman, was incredibly helpful in this process, sharing a commitment to Jim's dream. I will never forget our visits to Jerry's office in the Rayburn building. We were joined by Steven Jacobs and Elliott Fiedler, our Washington consultants, and Jerry's wife Arlene, while their "office" dog Bruin made the rounds to each, looking for a friendly pat. To listen to those political veterans recall legislative victories and defeats as they strategized their way to success was a great lesson in Washington politics.
When what was later named the James M. Slater, MD Proton Treatment and Research Center opened in 1990, both praise and criticism intensified. Concerns about the effectiveness and cost of proton therapy rippled across the country for years. Jim patiently explained to numerous groups the benefits of this new type of radiation. Eventually the loudest voices came from thousands of patients themselves, particularly those with prostate cancer, who came to Loma Linda from around the world and claimed success for this unique new approach to cancer treatment. Coalesced into the Brotherhood of the Balloon by a patient, Bob Marckini, this network grew to include thousands of advocates who gave personal testimonies and recommendations to anyone who asked.
Alongside the parallel breakthrough of infant heart transplantation in 1984 by Len Bailey, this was truly a coming of age for Loma Linda. It gave those of us at Loma Linda, and the many alumni and others who believed in this place, a point of pride and accomplishment as our name became regular fare in the press. We were not just a unique faith based campus stuck in a corner of California. We had contributed to scientific advances in the greatest of ways, bringing new techniques that would impact the world forever.
On this campus, Jim remained a quiet and humble dreamer of dreams. His mind never stopped thinking of new ways to improve and expand radiation therapy, moving beyond cancer to many other diseases. Yet he was always willing to believe in and support others. A personal memory was when this "young buck" was asked to develop a Department of Preventive Medicine and needed several faculty to join our practice group board. Dr. Hinshaw suggested that I approach Jim, but I was hesitant to engage this esteemed senior in a minor departmental duty. But he was both gracious and enthusiastic and attended meetings faithfully.
I miss Jim's occasional visits to my office, explaining the intricacies of a federal grant, or suggesting a new disease to treat. His wavy white hair, always calm demeanor, and never ending smile was a welcome addition to any day. Thank you Jim, for what you have given to Loma Linda and future generations.

Richard H. Hart, MD, DrPH
President
Loma Linda University Health