October 2016
Building Bridges
We are in a political year unlike any other, and this election is forcing a rough re-examination of our goals and direction in this country. The polarization propagated by candidates from all sides has featured and even accelerated our American struggle to deal with our differences. Cultural, economic and racial disharmonies have come to define so much of whom we seem to be. Ideologies of all types strive for dominance in each evening's news.
What can a faith-based institution, with a justifiable pride in its consistency of mission for over 111 years, offer in this cauldron of cultural chaos? Is anyone listening — can anyone hear — a message of compassion and caring, of justice and integrity, in such a din of noise? We do not need to look abroad or very far away to sense the desperateness, the hopelessness, of so many today. We must own these challenges as our own, even here in our own Inland Empire of Southern California. Our own San Bernardino has been the focus of the media too often, and usually for the wrong reasons, over the past few years.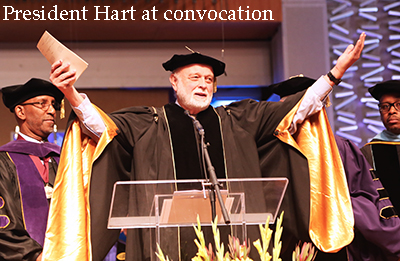 It is in this context that Loma Linda University Health, with its great diversity of people and backgrounds, is called to pursue its mission. Values that seem so outdated to many are still taught on this campus — Justice, Compassion, Humility, Integrity, Excellence, Freedom and Self-Control. Are we even realistic to believe that we can call out this kind of character, this personhood, in a world that seems to be heading in the wrong direction?
In David Brooks' recent book, The Road to Character, he contrasts what he calls "Resume Virtues" with "Eulogy Virtues." Resume Virtues are those external degrees and accomplishments that one piles up to get ahead in a competitive world. Eulogy Virtues are the relationships and the quiet, inner characteristics like honesty, bravery and kindness that are talked about at your memorial service. He characterizes the Millennials of today as having an obsession with Resume Virtues, leading to an "overdeveloped mind and an underdeveloped soul." Loma Linda University can and should counter that perception.
Two weeks ago, I had the privilege of walking once again in the footsteps of Fernando and Anna Stahl, 1909 nursing graduates of the American Medical Missionary College in Battle Creek, Michigan, a forerunner of Loma Linda University. The Stahls worked as missionaries for nearly 30 years in both the jungles and Altiplano of the country of Peru. Peruvian national history makes clear they saw and challenged the norms of the day, with its class differences, its subjugation of human rights and the utter depravity of large segments of society.
To their own peril, the Stahls championed both education and health care for those most in need, eventually overthrowing the elite system of "essential" slavery. I couldn't help but wonder as I wandered those historical paths, "Where are the Fernandos and Annas of today?"
Can we call forth the same boldness of spirit and conviction to confront our own cultural divides? Can we put aside our own collection of Resume Virtues to spend time Building Bridges of hope and empowerment for those with neither?
To even come close to accomplishing these lofty goals, we need to own and challenge our personal and collective limitations. This campus too often reflects many of the biases and perceptions we all bring with us. Some of these barriers are visible and recognized, while others fall into the bin of "unconscious biases" — those feelings and beliefs we don't even perceive in ourselves or understand but which very much influence our daily walk. We have not escaped these forces.
We must accept our place in the larger society, struggling with poverty and race, with new understandings about sexual identities, with chance vs. choice, with the reality that we are all carrying both genetic and social backgrounds that control our perceptions and behaviors in powerful ways.
Last year, we established a Diversity Council at Loma Linda University Health in an attempt to understand and bridge these issues. This group of individuals from across this campus has come together regularly and been brave enough to be honest with each other, to recognize in our individual histories both struggles and triumphs. This journey is still underway, and will probably never have an observable destination. But the promise is real and the commitment to Building Bridges is palpable. This group has committed to help turn their own struggles into understanding and compassion for others, their pain into promise for others.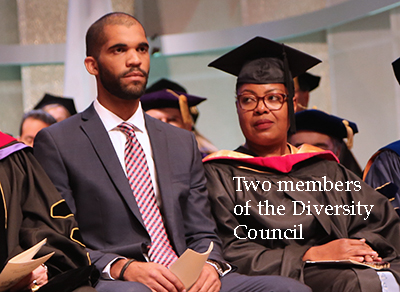 Earlier this week in the annual University convocation service, I introduced the council members, offering their offices, their arms and ears, as a beginning point for listening to concerns and challenges, large or small. While we recognize that there are some scars we can never completely erase, we also believe that listening and beginning the road to understanding are essential steps in healing. The council members are Kenny Boyd, Dilys Brooks, Garrett Caldwell, Nicceta Davis, Daisy DeLeon, Jonathan Portney, Lyndon Edwards, Dan Giang, Kent Hansen, Jerome Kabayiza, Monica McCarthy, Susanne Montgomery, Laura Nist, Lizette Norton, Jon Paulien, Pedro Payne, Edelweiss Ramal, Terry Swenson, Tammi Thomas, Esther Valenzuela, Arwyn Wild, Trevor Wright, Nancy Young and Farnoosh Zough.
These representatives are available to listen to concerns and have committed to a non-judgmental response that can bring healing to our wounds.
Our new Loma Linda University Health – San Bernardino campus was also developed to help us in this very endeavor. While the world might think we are engaged in benevolent work for the needy next door, my hope is that this new campus will also be a laboratory of learning for us — our students, residents and faculty. A place where we confront human need and find resources, where we can see the challenges and potential of those we care for, where a person's genetic code influences their lives more than their zip code.
To accomplish this we are going to need to develop bridges. Not just bridges of intellect and clinical skills, but bridges of understanding and friendship. We are going to need to listen and absorb, to engage with feelings and the realities of the streets and 'burbs around us. We are going to need to find and define new partnerships for the health care industry with people who can connect and motivate our patients in ways we could never accomplish. This is the best hope for the new goal we all talk about now — population health.
This is the recognition that we must look beyond the patient in the clinic to embrace their neighborhood, their stores and parks, their transportation and homes, their relationships and dreams. San Bernardino and its environment are ideal for this type of learning, and we must capture its potential in every respect.
But let me express here a major concern I have. Nathaniel Hawthorne captured this concept when he wrote "Benevolence is the twin of pride." It will be too easy for many of us to feel we are doing great things for San Bernardino, for its people and communities. And when you feel that way, you often expect some recognition in return. You often feel superior to those you are serving and get frustrated when they don't appreciate what you have to offer. You become condescending in your attitude and approach.
We must always remember that we are not serving the poor or disenfranchised, we are serving our God. We are caring for His children, who have justifiable feelings and sensitivities. Our relationships can only be effective if we can personally feel comfortable relating to them as equals in God's eyes. The Bible itself is replete with this counsel.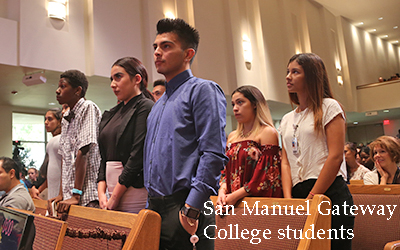 The young professionals being educated in our San Manuel Gateway College are our newest colleagues, partners in the drive for a more equitable distribution of resources, and more cost effective health care. Loma Linda University Health was privileged to have the first class with us at convocation, and I introduced them each by name: Dahajee Allan, Angelica Estrada-Tinoco, Damaris Gaona, Miguel Ibarra, Michelle Laboy, Wendy Lopez, Julissa Ponce, Edilma Ramirez, Hannah Reed, Diana Ruiz, Christopher Torres and Neery Velazquez.
I encouraged them: "Thank you for becoming our partners in these challenging times. Your understanding and relationships are crucial to our collective commitment to improve the health and well-being of our communities. Bear with our biases and awkwardness as we seek to wrap our minds around your journeys and aspirations. We will need more of you, many more. We need you as colleagues, to extend our commitment and compassion to your families and neighborhoods. We need you to identify and define barriers to growth and development in both individuals and communities so we can collectively seek to overcome them."
Let me close by sharing a quote from Robert Kennedy, who felt passionately about these issues of moral courage in today's world:
"Each time a man stands up for an ideal, or acts to improve the lot of others, or strikes out against injustice, he sends forth a tiny ripple of hope, and crossing each other from a million different centers of energy and daring, those ripples build a current which can sweep down the mightiest walls of oppression and resistance. … Few men are willing to brave the disapproval of their fellows, the censure of their colleagues, the wrath of their society. Moral courage is a rarer commodity than bravery in battle or great intelligence. Yet it is the one essential, vital quality for those who seek to change the world which yields most painfully to change."
I leave you today with that challenge. May this campus, this community, this haven committed to healing, be sensitive and open to all as we seek to walk this path for the betterment of our community and world. And in that journey, may this new academic year bring growth and fulfillment for all of us.
Sincerely yours,
Richard Hart, MD, DrPH
President
Loma Linda University Health
Office of the President, Loma Linda University, Loma Linda, CA 92350
Copyright © 2016 by Loma Linda University